On 6-9 September 2022, the REACT project took part in the Sustainable Places Conference 2022, a hybrid event (in Nice, France and online) which this year marks the 10th edition, gathering almost 150 EU R&I projects for a total of 1 Billion Euros of total EU funding. REACT ongoing activities and results have been featured through workshops, paper sessions and the attendance of project partners from R2M, COMET, Mihajlo Pupin Institute and Teesside University.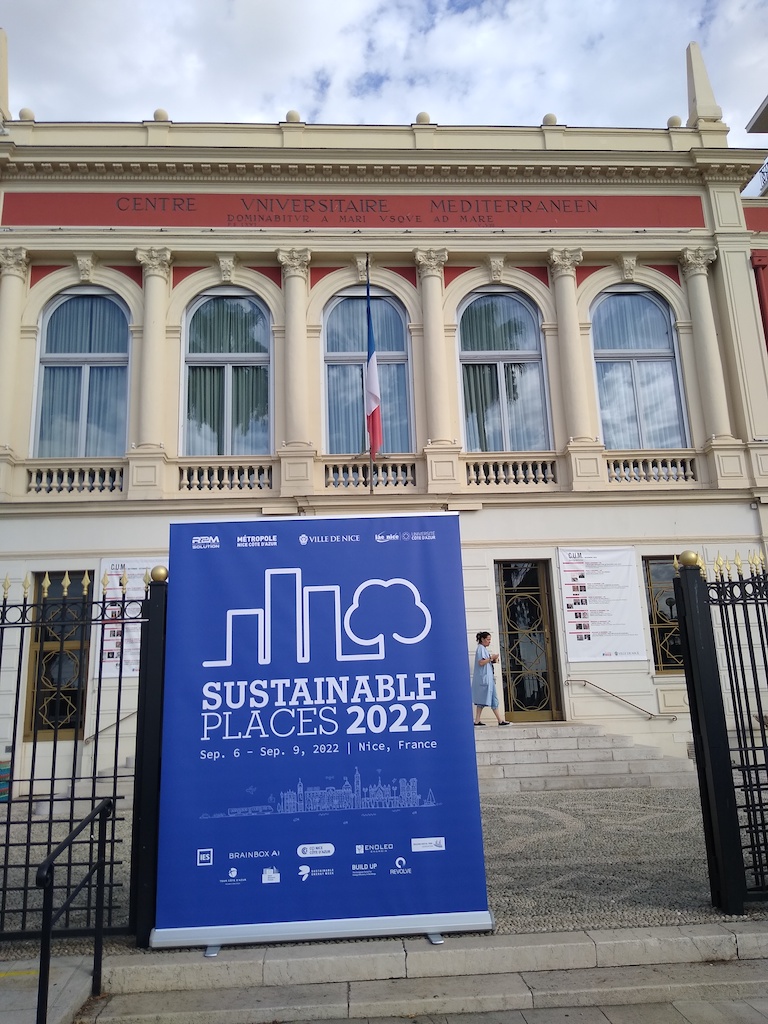 The conference represented a great chance to valorize part of the latest results reached within REACT by several partners:
On behalf of Teesside University, the focus was on the societal aspects and understanding the key social drivers resulting from the interviews investigating both needs and opportunities for end users faced with smart, demand-response platforms and energy flexibility concepts and how to favor a transparent adoption from the energy market operators (ICT providers, ESCos, energy aggregators, DSOs, etc.). Dr Dana Abi Ghanem with Prof Tracey Crosbie (online) delivered a presentation on a research entitled "Informing an equitable transition to clean energy: results from a resident survey on three islands". The islands correspond to the 3 pilot sites of the REACT project (La Graciosa, Carloforte and Aran Island).
In addition, Prof Michael Short illustrated another recent research on the topic: "Measuring the gap: a statistical approach for online evaluation and forecasting of human participation in Demand Response programmes". The work was performed in cooperation with Prof Tracey Crosbie.
In another paper session, Dana Abi Ghanem delivered a speech on a work co-written with Dr Mina Najafi, and Prof Tracey Crosbie on the topic: "Configuring the user in the design and testing of demand response: Implications for user engagement with smart grid solutions".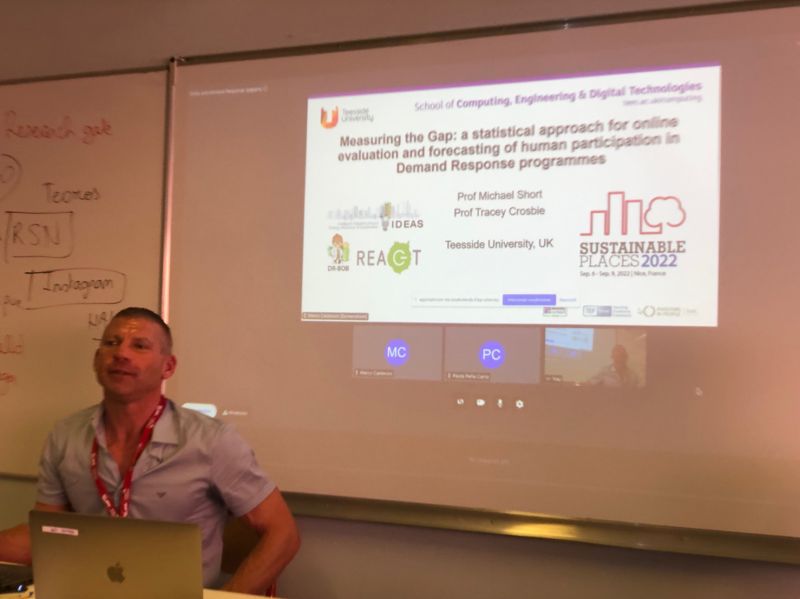 The workshop partners
During the workshop Islands Clean Energy Transition, the sister projects (ISLANDER, ROBINSON, GIFT and NESOI) and other projects with similar concerns (IANOS, INSULAE, and MAESHA) explored different topics related to pathways to achieve low-carbon emission islands, the financing schemes to reach this goal, as well as results and lessons learned from the projects and the activities on their pilot sites.
Marko Jelić, from Mihajlo Pupin Institute was among the speakers representing the activities on REACT.
All the speakers delivered inspiring presentations for the workshop audience (in person and online) on how they are facing a common challenge: the need to become energy autonomous while triggering a pathway of sustainability and resilience, based on low-carbon emissions. Indeed, all the projects are developing and validating solutions pairing RES plants and flexibility of local energy management systems, often creating the conditions for energy self-consumption schemes and business models within renewable energy communities (RECs).
Since the "Clean Energy Policy Statement for EU Islands" publication in 2017, European islands are becoming ambassadors for energy transition and efficient use of energy sources, and REACT plays an important role within it with its three pilots implementing clean energy solutions in La Graciosa, Carloforte and Aran Island, as well as the five followers islands.
User engagement
All this without forgetting the user engagement. Without the participation of the user and community, the REACT project's path can be only halfway completed. There are many questions to address and challenges to face when cooperating in specific contexts like small islands, where sometimes there are few opportunities to discuss, in public debates, about concepts like "clean energy", "energy communities" or "energy flexibility". That is part of the tasks needed: during the workshop new approaches were presented that complement traditional residents' engagement.
The innovation challenges
It was useful to learn about energy management challenges. Understand that cooperative energy saves costs and increases efficiency. Moreover, it was fascinating to learn that technological developments (new materials, adapted software, etc.) are a challenge but a breakthrough in innovation.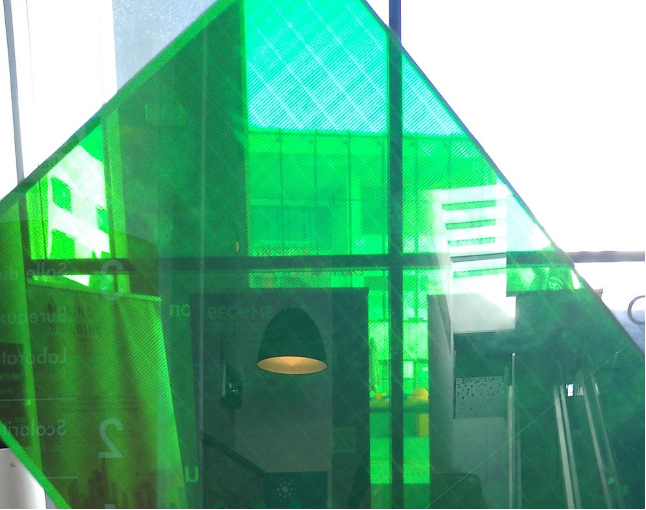 As always the gathering has been an excellent showcase of green energy projects and a great opportunity to come in contact with very interesting outcomes and fantastic professionals that stir our minds and encourage us to follow the path of clean energies research and innovation.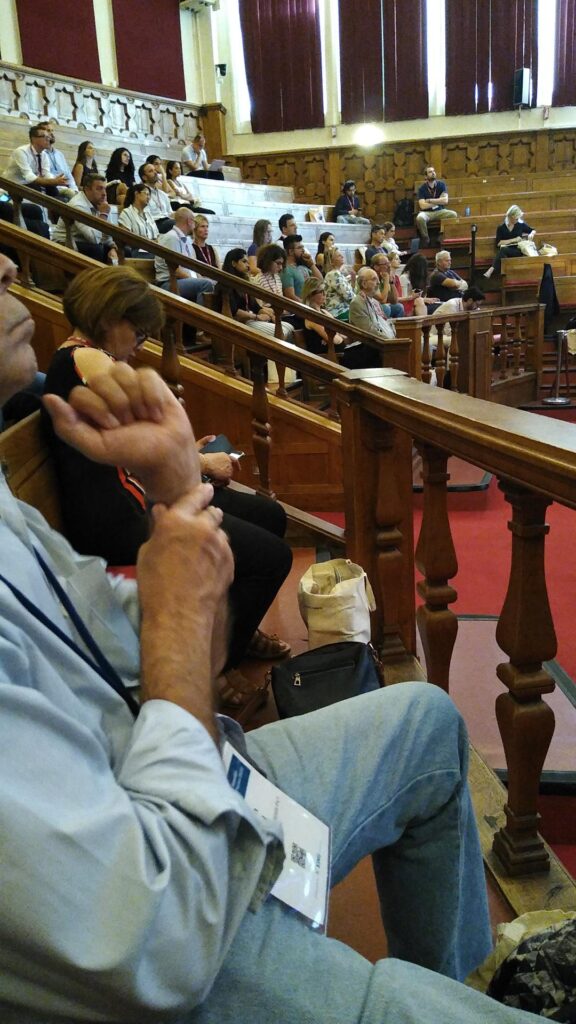 At SP22 also the Comet Technology and R2M Solution teams had the chance to show the project roll-up and talk with researchers, policy-makers, technology providers and other consultancies joining the conference.
The audience's attention was high on how to guarantee access to energy at affordable prices by communities located on islands, while embracing a change of mentality towards a decarbonized lifestyle and respect for local ecosystems and environmental beauties on islands.
To see the presentations and the workshop video, please visit: European Actions towards Geographical Islands Decarbonisation – Sustainable Places (SP)